Manufacturing Capacities
At JST Industry, we use the latest machining technology with a wide range of capabilities to meet your demands. Our manufacturing facilities include Casting, Die-Casting, 3-5 axis milling, lathes, grinding, etc, and state of the art metrology. With these machines, we produce complex parts in the most efficient and accurate way. Our manufacturing capabilities allow us to develop your part from prototype to mass production for the most precise of jobs.
| | |
| --- | --- |
| Processing Method | Casting, Die-casting, CNC Milling, CNC Turning, Turning-Milling Machining, Micro Machining, Grinding, Boring, Tapping. |
| Material | Stainless Steel, Alloy Steel, Carbon Steel, Free-cutting Steel, Brass, Copper, Aluminum, POM, PTFE. |
| Finish Treatment | Polishing, Sand Blasting, Anodizing, Zinc Plating, Nickel Plating, Blackening, QPQ, Painting, etc.. |
| Tech. Standard | ANSI, ASTM, DIN, JIS, BS, GB, ISO, etc.. |
| Application | Medical, Aerospace, Millitary, Instrument, Optics, Food Equipment, AUTO Parts, Furniture, etc.. |
Casting is the most important sector in JST Industry, we have been a trusted manufacturing supplier in this field for over 15 years. We have built an impeccable reputation on quality, customer service and utilizing state-of-the-art equipment. Our expertise has made us the Best in Quality and Innovation.
Based on our manufacturing facilities and the local co-operating factories, we could do the sand castings, investment castings (lost wax castings), aluminum alloy die casting, zinc alloy die-castings and forgings. We could also do the additional machining for these parts, and also the finish treatment (heat treatment, sand blasting & anodizing, polishing, powder coating, etc..) as well.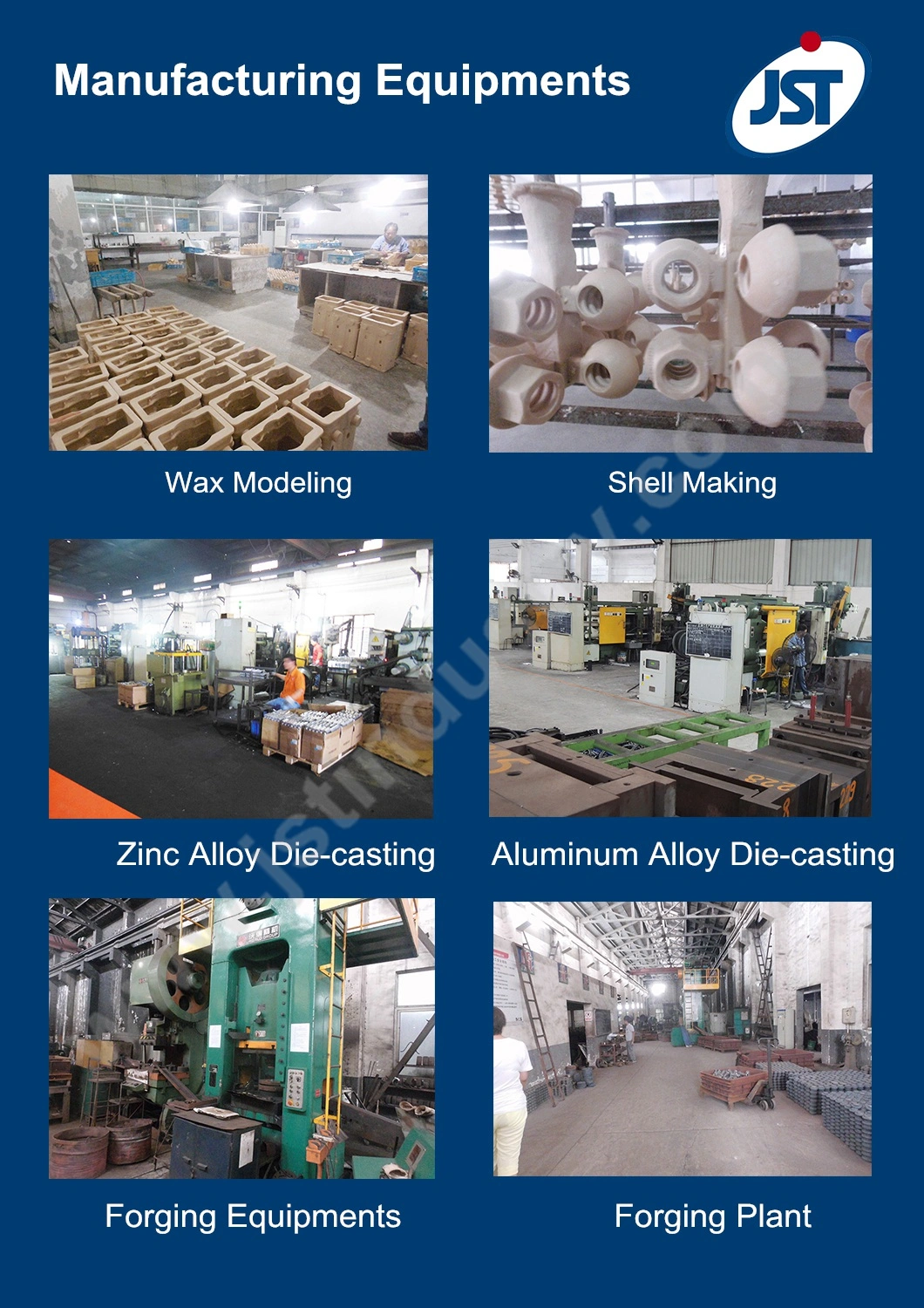 Other Machining Facilities
| | | | | |
| --- | --- | --- | --- | --- |
| Equipment Description | Workpiece Dimensions | Processing Accuracy | Quantities | Brand |
| 3-axis machining center | Max. 1000 x 1200mm | +/-0.01mm | 6 | DMG |
| 4-axis machining center | Max. 1000 x 1500mm | +/-0.01mm | 4 | DMG |
| 5-axis machining center | Max. 1000 x 1500mm | +/-0.01mm | 2 | DMG |
| CNC lathe | Max. diameter 100mm | +/-0.01mm | 20 | SMTCL |
| General lathe | Max. diameter 500mm | +/-0.05mm | 2 | SMTCL |
| Turning-Milling machine | Max. diameter 100mm | +/-0.01mm | 6 | DMG |
| Longitudinal lathe | Max. diameter 30mm | +/-0.01mm | 6 | TSUGAMI |
| Automatic lathe | Max. diameter 20mm | +/-0.02mm | 30 | TY |
| CNC Swiss Lathe | Max. diameter 20mm | +/-0.01mm | 6 | TSUGAMI |
Other assist equipments include
:
Milling machine, Drilling machine, Centerless Grinding machine, External Cylindrical Grinding machine, etc.
Inspection equipment:
Vernier Caliper, Micrometer, Height Gage, Hardness Tester, Two-dimensional image measuring instrument, TESA Micro-Hite
300, Mitutoyo surface Roughness Tester, Mitutoyo CMM and Ultrasonic Cleaner.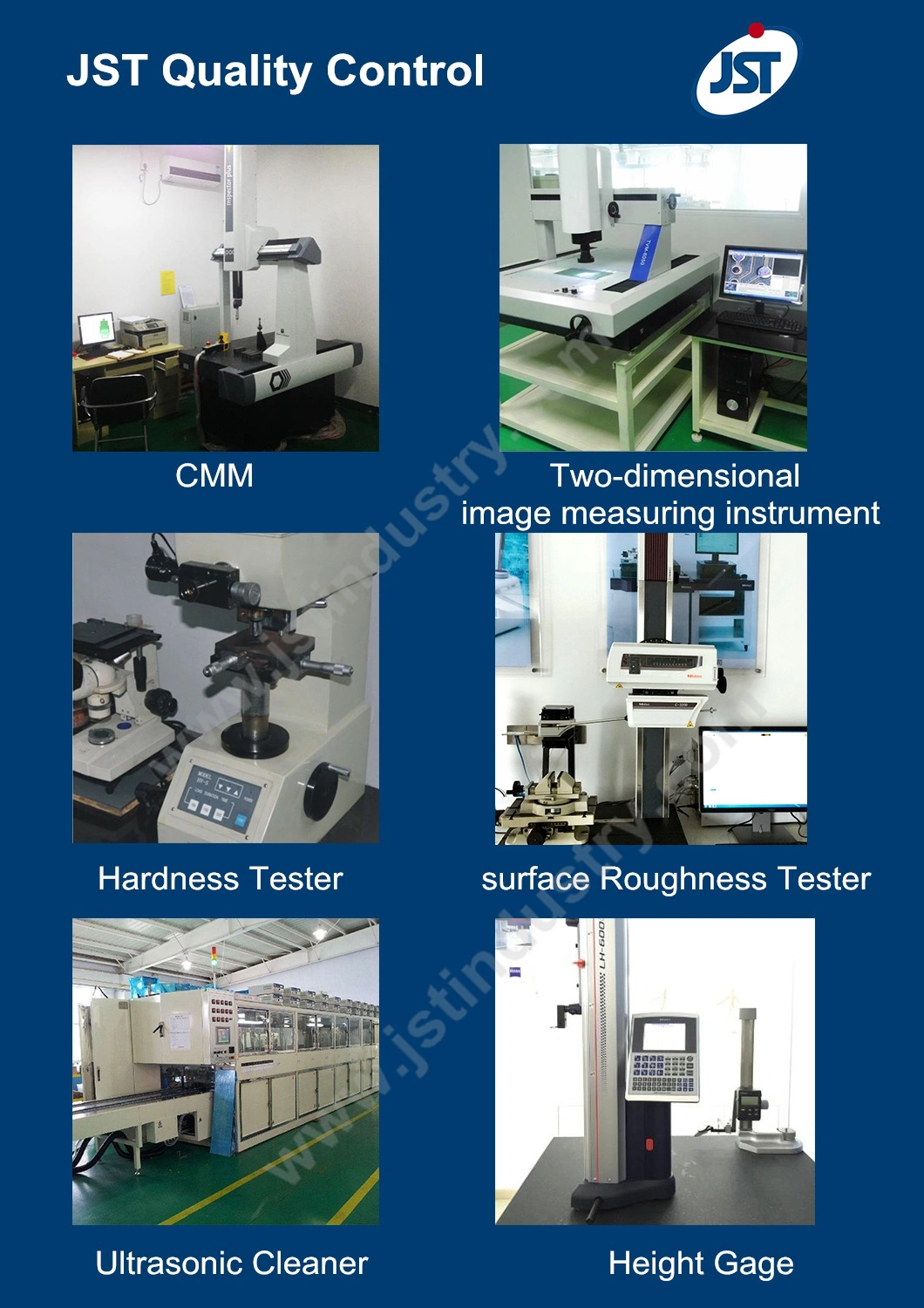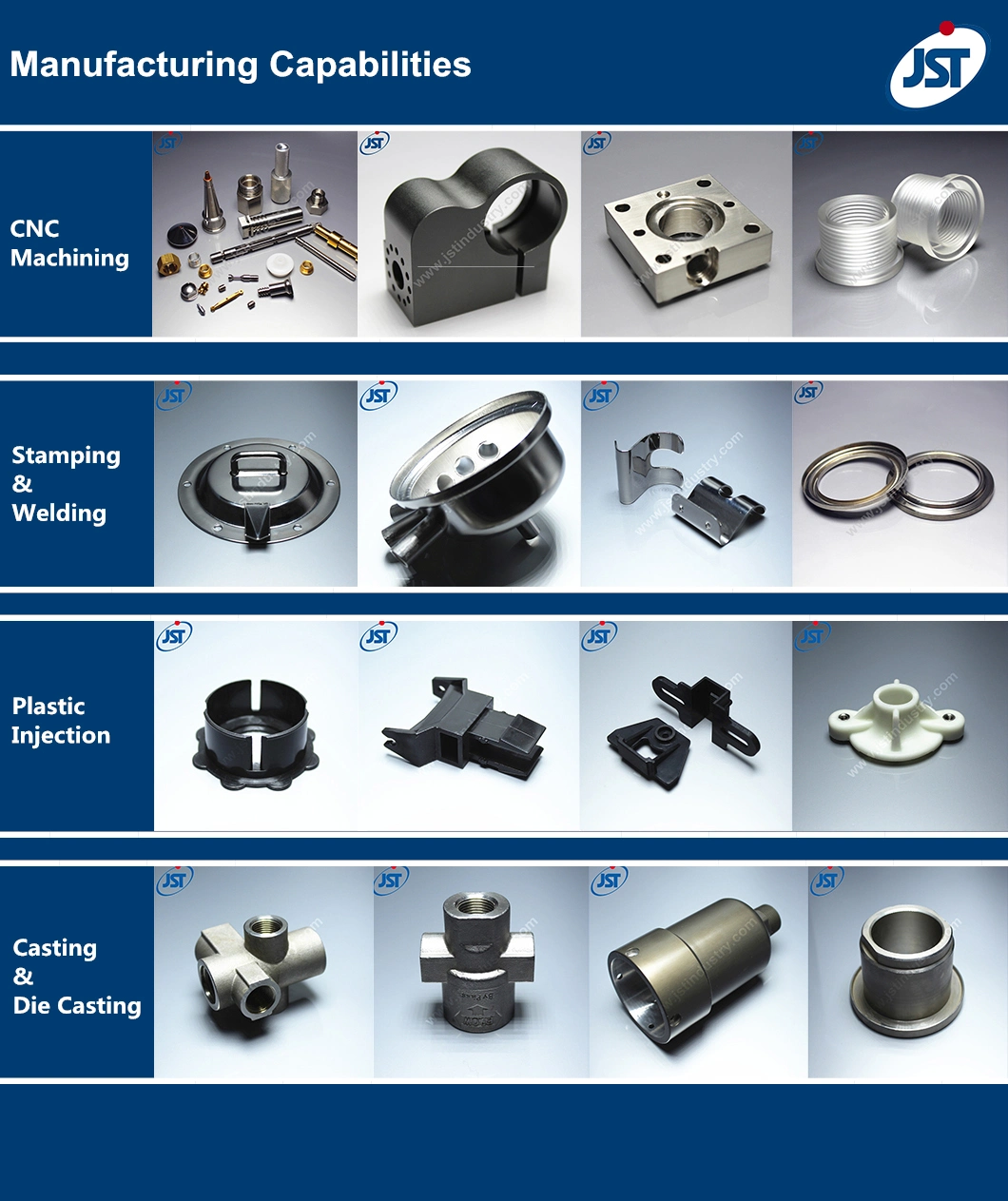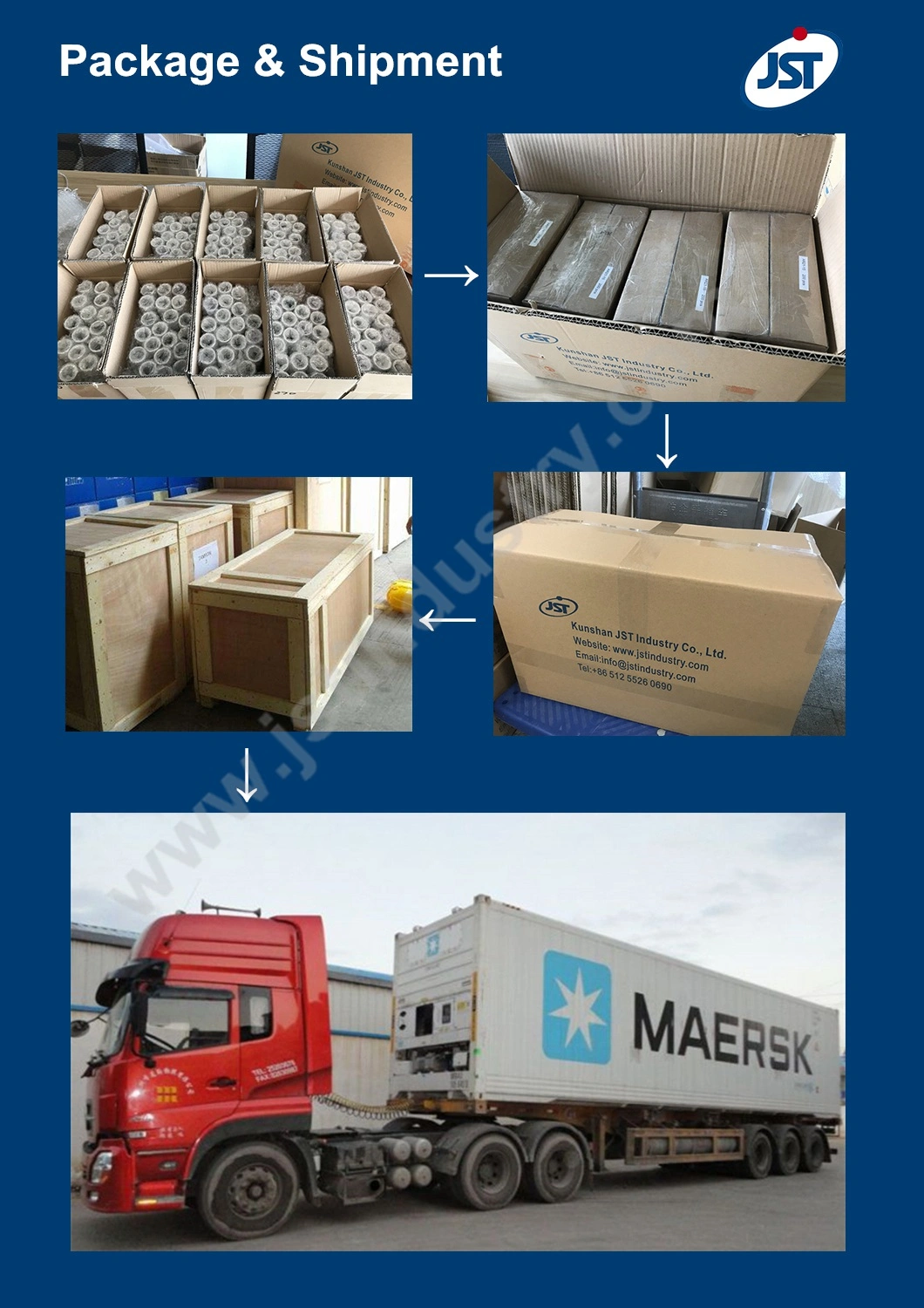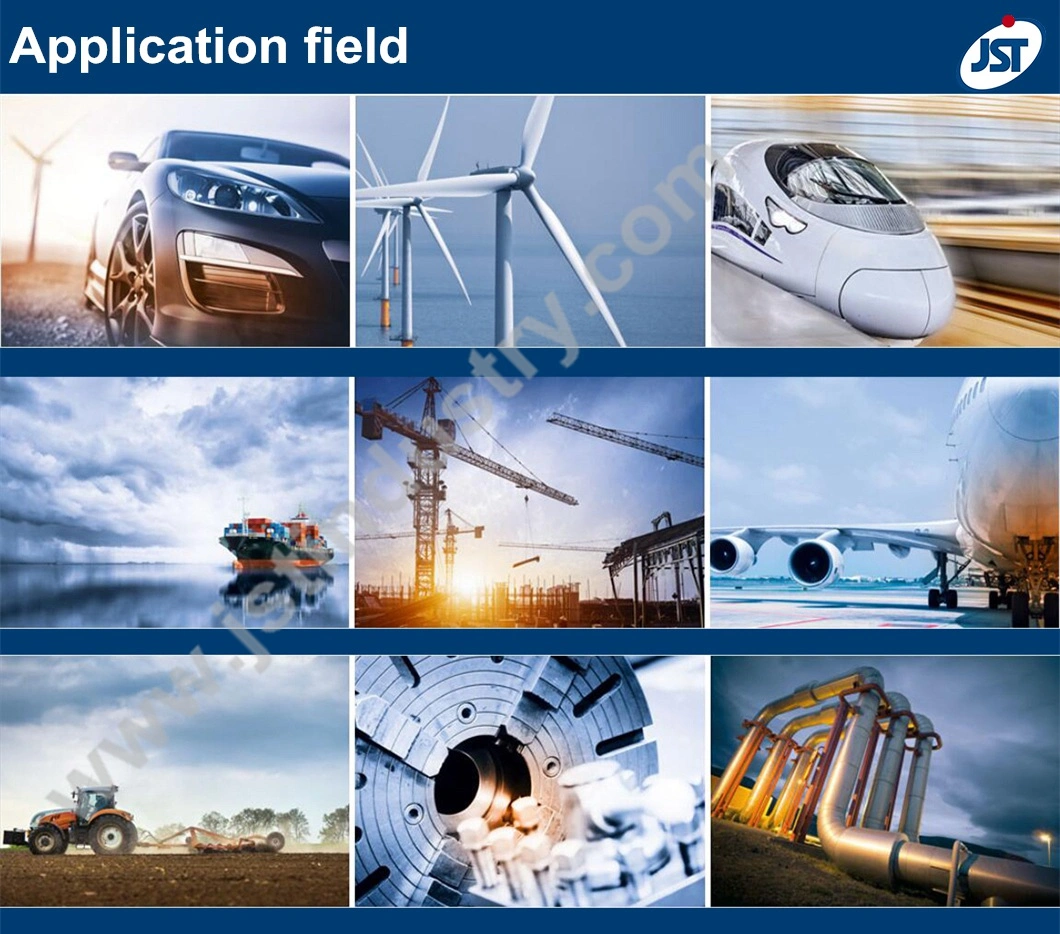 FAQ
Q1: Are you a trading company or a manufacturer?
Manufacturer.

Q2: How long is your delivery time?
Normally, the samples delivery is 10-15 days and the lead time for the official order is 30-45 days.

Q3: How long will it take to quote the RFQs?
Normally, it will take 2-3 days.

Q4: Do you provide samples?
Yes, the samples will be free if the cost is not too high.

Q5: Which countries are your target markets?
America, Canada, Europe, Australia and New Zealand.

Q6: Do you have experience of doing business with overseas customers?
Yes, we have over 10 years exporting experience and 95% of our products were exported to overseas market. We specialized in the high quality OEM parts, we are familiar with the standard of ANSI, DIN, ISO, BS, JIS, etc..

Q7: Do you have reference customers?
Yes, we have been appointed as the supplier of Parker(USA) since 2012. "Supply the top quality precision machined parts" is our management philosophy, ON TIME and EVERYTIME.